Watchmen Movie Cast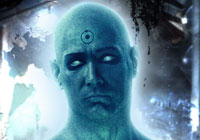 Billy Crudup
"I think I'm a good actor because I try really hard. That also means that when I suck, I aggressively suck. That probably happens as much as it doesn't, but at least I'm always in search of the moment where I can do something I haven't done before." - Billy Crudup
This native of New York was the middle child in a family of three boys. As a youngster he lived in Texas and Florida, finding roles in school pageants and developing funny impersonations to entertain family and friends.
After graduating with an undergraduate degree from the University of North Carolina, Crudup went on to earn a Master of Fine Arts from the Tisch School of the Arts at New York University. From here he moved into the theatre circuit.
He appeared on Broadway in the critically lauded Chekov play
Three Sisters
with Amy Irving, Lili Taylor and Jeanne Tripplehorn, for which he received a Drama Desk nomination. In addition to his critically acclaimed performance opposite girlfriend Mary-Louise Parker in the Broadway play
Bus Stop
, Crudup appeared in Tom Stoppard's
Arcadia
, which earned him the Outer Critics Circle Award for Outstanding Debut of an Actor; the Theatre World Award; and the Clarence Derwent Award.
Crudup's first big-screen acting gig was in the indie film
Grind
(1997), which was shot in 1994, but ended up on the shelf for three years. In 1996 he landed another, more lucrative role opposite Hollywood hotshots Brad Pitt and Jason Patric in the Barry Levinson drama
Sleepers
(1996). For his role as a troubled survivor of childhood abuse, Crudup received recognition that was amplified with his next role when he starred with Joaquin Phoenix in
Inventing the Abbotts
. That same year, he starred with Woody Harrelson in Stephen Frears' critically maligned
The Hi-Lo Country
(1998), and he won kudos for his performance as runner Steve Prefontaine in
Without Limits
(1998).
With such experience under his belt, it isn't a surprise that he ended the millennium off with four starring roles in
Princess Mononoke
(1999) (voice),
Jesus' Son
(1999),
Waking the Dead
(2000) and
Almost Famous
(2000). In
Big Fish
(2003), he plays the son of a dying man (Albert Finney) who thrives on telling tall stories and tales.
Although he dated Mary Louise Parker from 1996 to November 2003, they broke up during her seventh month of pregnancy. Their son, William Atticus, was born on January 7, 2004.
Crudup claims he doesn't want to be a star and often turns down roles because he makes millions of dollars each year using his voice to sell products as a 'voice over actor.'