Alan Moore Biography
Alan Moore a celebrated writer of comics and graphic novels was born November 18, 1953 in Northampton, England. His childhood and youth were marred by the poverty of his family and the environment they lived in. He was also influenced to some degree by the wild eccentricities of his highly religious and superstitious grandmother. He was eventually expelled from secondary school and by 1971, Alan Moore found himself unemployed and without any job qualifications whatsoever.
During the early 1970's Alan Moore started working with "Embryo", which was a magazine he had been publishing along with some of his friends. By 1979, he had started working as a cartoonist for the weekly music magazine "Sounds". Eventually, he decided that he wasn't such a great artist and decided instead to focus on writing. He ended up as a contributor to "Doctor Who Weekly" and the famous science fiction title "2000 AD". This is when Alan Moore started creating several popular series such as "The Ballad of Halo Jones", "Skizz", and "D.R. & Quinch".
Later Alan Moore started writing for "Warrior", which was a British anthology magazine. It was here that he began to work on two important series known as "Miracleman" and "V For Vendetta". Both of these works earned Alan Moore the British Eagle Awards for Best Comics Writer in 1982 and 1983. His exceptional writing talent also earned him his first American series, "Saga of the Swamp Thing". Alan Moore was able display great depth and insight in his work, demonstrating that he could write on a broad range of topics and situations. His stories actually set the pace for the 'Sophisticated Suspense' theme by which many comics operate under even today.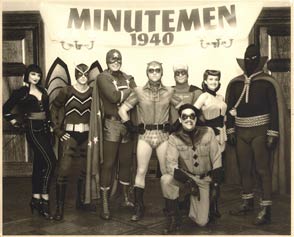 In 1986 Alan Moore came out with "Watchmen" which ultimately redefined the comic book medium and changing the very tone of comics to this day. The complex script contained in Watchmen provided a realistic portrayal of superheroes in a world that neither understood, nor fully trusted them. Many consider this work by Alan Moore to be the best comic ever produced. Watchmen became the first comic book to be a recipient of the prestigious Hugo Award.
By the end of the 1980's, Alan Moore was publishing his own graphic novels, as well as contributing to Batman and Superman stories. Although he has had his disagreements with mainstream publishers over the years, he still sells lots of books and has earned the reputation as a top writer. Also in the late 1980's, Alan Moore set up his own publishing imprint called Mad Love Publishing. During this time Alan Moore also began working on a screenplay with Sex Pistols manager, Malcolm McLaren, however the film never came to fruition.
More recently, Alan Moore has an imprint called America's Best Comics (ABC). Once again Alan Moore is exploring new terrain with several new series such as "The League of Extraordinary Gentlemen", "Promethea", "Tom Strong's Terrific Tales", "Tomorrow Stories" and "Top Ten". He is also involved with several other projects including CD's and more books.