Watchmen Movie Cast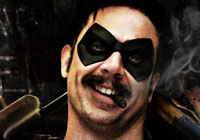 Jeffrey Dean Morgan
effery Dean Morgan took his time achieving celebrity status. The Seattle native had spent over 15 years making guest appearances on highly rated television series and playing roles in small budget films, but it was when he played a semi-regular role as Denny Duquette on Grey's Anatomy that he finally got his shot at fame. As a patient who swept Dr. Izzy Stevens off her feet while he lay in bed desperately in need of a heart transplant, Morgan suddenly found himself a heartthrob at the age of 40. The role came just in time—his longtime agent had recently dropped him.
Leading roles in big budget pictures quickly followed, including romantic leads opposite Hilary Swank in P.S. I Love You (2007) and Uma Thurman in The Accidental Husband (2008). He's since played starring roles in Warner Bros. Watchmen (2009), The Weinstein Company's Shanghai (2009) and Focus Feature's Taking Woodstock (2009), directed by Oscar-winner, Ang Lee.
Divorced, Morgan enjoys reading, watching movies and listening to music in his spare time. He lives in Los Angeles with his Rottweiler mix, Bisou.